Women's tennis records perfect day at ITA Central Regional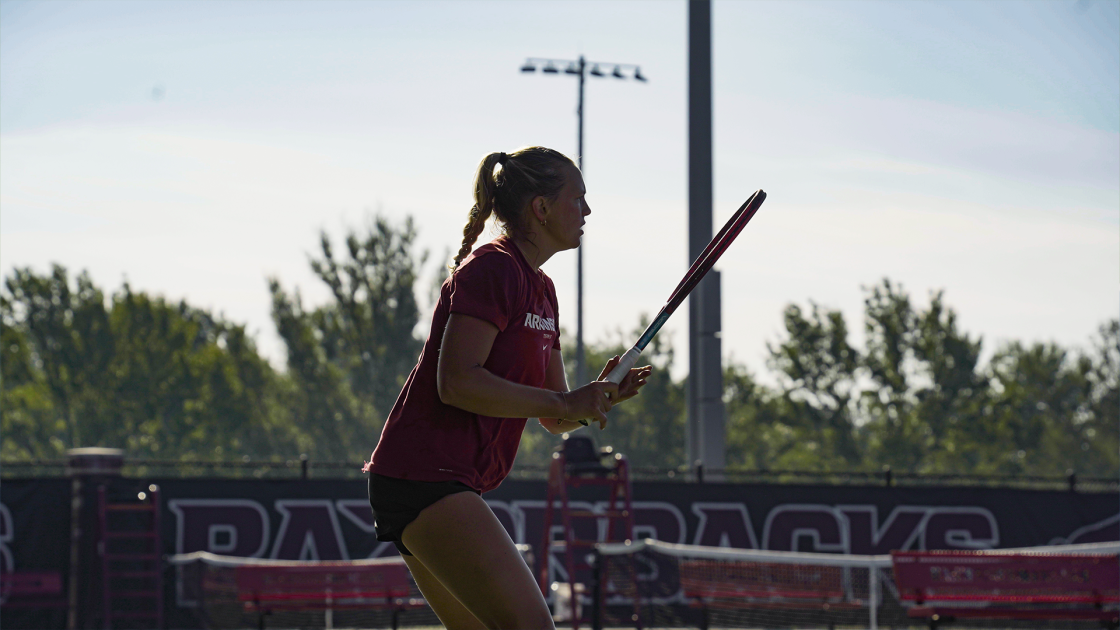 STILLWATER, Okla. – The Arkansas women's tennis team enjoyed a successful second day of play at the ITA Central Regional, winning all six main draw singles matches and two doubles matches to advance to tomorrow's competition.
In doubles, the Razorbacks had two pairs competing. The No. 10 seed of Lenka Stara and Grace O'Donnell picked up a dominating 8-2 victory over Lai/Shikanova of Southeast Missouri State. The other Razorback duo, Indianna Spink and Kelly Keller, completed Arkansas' doubles sweep by beating Kansas City's Xibilia/Baroja 8-6.
Arkansas continues to play singles, winning all six games they have appeared in. Kelly Keller got the ball rolling with a 6-4, 6-2 win over Wichita State's Lingwei Kong. Sophomore Grace O'Donnell faced a tough match against Minnesota's Aiva Schmitz. O'Donnell won the first set 7-5, but lost the second in a tough 2-6, she came out on top in a 6-4 third set.
Sophomore Indianna Spink continued Razorback's wins with one of her own, beating Minnesota's Anet Koskel 6-1, 7-6(1). Freshman Yuhan Liu followed in a 5-7, 6-1, 6-2 three-set victory over Kansas' Koral Koldobski. The Hogs kept winning, Stara earned a 6-3, 6-7, 6-3 win over Minnesota's Zoey Weil and rookie Carolina Gomez-Alonso finished the job in an impressive 6-1 victory , 6-0 against Wichita State. Kudryavtseva.
The Razorbacks continue to play the ITA Central Regional Championship tomorrow with doubles play at 9:30 a.m. CT and singles to follow.
For the latest information on all things Arkansas women's tennis, follow the Hogs on social media by liking us on Facebook (Arkansas Razorback Women's Tennis) and following us on Twitter and Instagram (@RazorbackWTEN).