'Stick Fly' is a fun getaway at the Repertory Theater in St. Louis | Theater reviews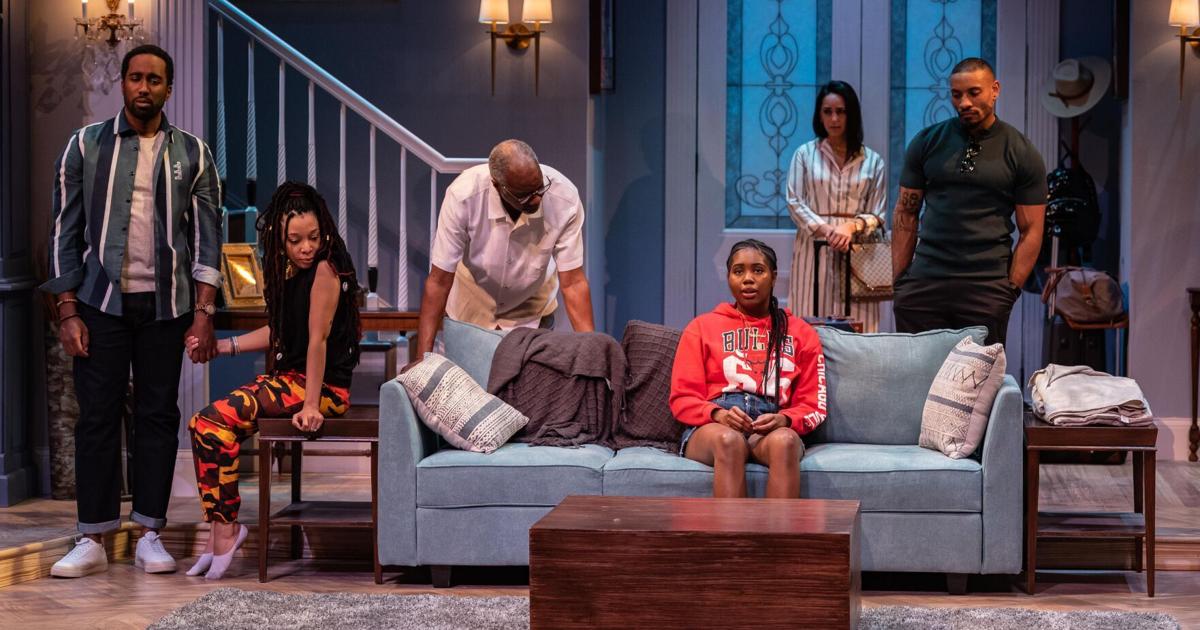 Secrets upend the tranquility of a summer getaway in "Stick Fly," a brilliantly acted, hilarious, and highly entertaining production from the Repertory Theater of St. Louis.
Directed by Chanel Bragg, playwright Lydia R. Diamond's comedy-drama centers on an upscale African-American family with a home on Martha's Vineyard. But amid the grandeur of the surroundings, undercurrents of discontent are gradually surfacing.
Family patriarch Joe LeVay (Ron Himes), a successful neurosurgeon, can't hide his disappointment with his youngest son, Kent (Ricardy Fabre), an aspiring writer whom he urges to find a respectable job. Joe is also not entirely happy with his other son, Flip (DeShawn Harold Mitchell), whose career as a plastic surgeon is deemed acceptable, but whose guest Kimber (Blair Lewin) is a young white woman.
But there is still more happening. Apparently, Flip is no stranger to fellow guest, Kent's entomologist fiancée Taylor (Amber Reauchean Williams). Cheryl (Bobbi Johnson), who took over the household chores for her sick mother, also features significantly in the story. And Joe dodges explaining the glaring absence of the family matriarch.
Diamond brings a contemporary sensibility to the piece while taking an approach very close to the classical tradition of Chekhov and Ibsen. And she created characters that are both recognizable and specific. "Stick Fly" tackles race and class with subtlety, nuance and a nervousness rooted in hard truth. But the piece is perhaps best appreciated as a window into a neglected sector of African-American life.
In a country where "The Cosby Show" was notable at least in part because it was the rare television series that consistently acknowledged the existence of black professionals, plays such as "Stick Fly" are clearly anomalies. But regardless of their artistic value, these works can be appreciated as correctives to stereotypical portrayals of African-American characters in popular culture.
The cast is excellent, triumphing as an ensemble while embracing moments of acting opportunity. Himes is particularly impressive, convincingly capturing Joe's humor and dignity, but also his anger; Lewin, which gets to the heart of Kimber's vulnerabilities; and Williams, who imbues Taylor with fiery determination.
Bragg has a strong sense of material, and the production benefits hugely from the contributions of set designer Kyu Shin, lighting designer Amina Alexander, costume designer April Hickman, and sound designer and composer Twi McCallum.
"Stick Fly" takes its title from a method entomologists use to study house flies: sticking them to sticks. Although the metaphor might be a bit strained, Diamond seems to suggest that the piece is an experiment in anthropology – the study of what makes us human.
If this is indeed the case, the experiment is a great success.