Sonia Delaunay / Andrea Zittel: Living Abstraction – Announcements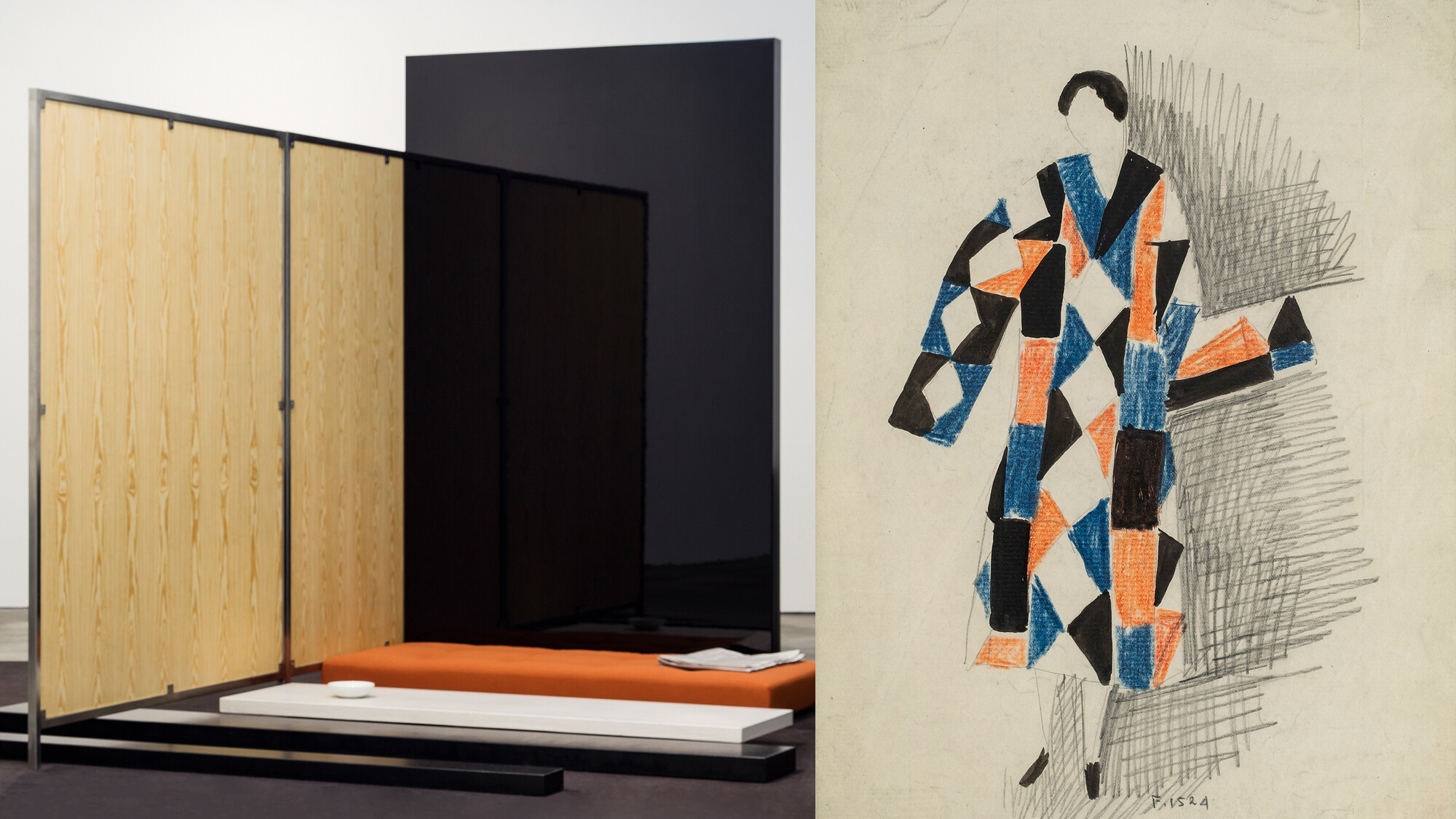 Sonia House and Personal models are part of the HLHE Dialog series of exhibitions, which highlights the art of Sonia Delaunay and Andrea Zittel under the Leitmotiv living abstraction. According to the director of the museum Katia Baudin, the originator of this double exhibition, "the neighboring modernist villas of Mies van der Rohe serve as an ideal setting and a catalyst for a fruitful encounter between two visionary female artistic positions which have endeavored to make breaking down the barriers separating art and everyday life, using the language of abstraction to examine and respond to societal change.
Sonia House in Haus Lange
In 1923, the visionary painter and designer Sonia Delaunay (Odessa 1885-1979, Paris) received her first order from a Lyon textile manufacturer, which changed her artistic career in a remarkable way. From then on, she designed large-scale patterned fabrics for fashion and interior decoration, which allowed her to experience international success: the Atelier Simultaneé was born. The starting point of the exhibition is a spectacular set of textile designs by the artist, purchased by the Kunstmuseen Krefeld in 2019. The exhibition explores the rich work of applied art by Sonia Delaunay, with particular attention to the origins and the meaning of the concept of Simultaneous, her studio, her talents as a networker and businesswoman, her industrial collaborations and her endless media diversity from the 1910s to the 1970s. It brings together an interdisciplinary range of works – including loans international markets – ranging from fashion, textiles, furniture, advertising and book design to film and photography.
A major publication Sonia Delaunay House is published by Hatje Cantz in separate German and English editions in conjunction with the exhibition. The contributions of internationally renowned scholars such as Pascal Rousseau (Sorbonne University, Paris), Marketa Uhlirova (Central Saint-Martins, London) and Margarete Zimmermann (FU Berlin, former director of the Center for French Studies) shed light on aspects hitherto unexplored life and work of Sonia Delaunay.
Andrea Zittel: personal motifs in Haus Esters
As one of the most important artists of her generation, Andrea Zittel (b. 1965, Escondido, California, USA) redefined sculpture as part of everyday life. In his first personal exhibition in Germany in 20 years, the artist takes over Haus Esters. Since the 1990s, Zittel has explored the space around her in "test sites", first in the urban context of New York, then in the Californian desert with her property that she designed herself. . AZ West. She is interested in human needs, which are particularly reflected in design. Influenced by the avant-gardes of the early 20th century, Zittel develops simple, geometric and futuristic furniture, fashion and architecture. With her reduced works, composed mainly of basic geometric shapes, she creates a synthesis between art, design and architecture. Art and everyday life, artist, entrepreneur and private individual become one. His conceptual and experimental work is grounded in his interest in basic human needs, which are reflected first and foremost in and shape spatial designs. Zittel's visual and personal motifs now meet Mies van der Rohe's constructed utopia of new life. International loans and works specifically adapted to the spaces of the house show how his works oscillate between function and abstraction. Thus, Zittel opens up new perspectives on ways of life that seem to go without saying, but which are not necessarily so.
A publication in German and English is being produced to accompany the exhibition.
Art direction, Living Abstraction: Katia Baudin, director Kunstmuseen Krefeld
Curators, Maison Sonia: Waleria Dorogova, Katia Baudin
Curator, Andrea Zittel: Juliane Duft
Kunstmuseen Krefeld is a cultural institution of the city of Krefeld.