SEA Airport Reveals Spectacular New Facility for International Arrivals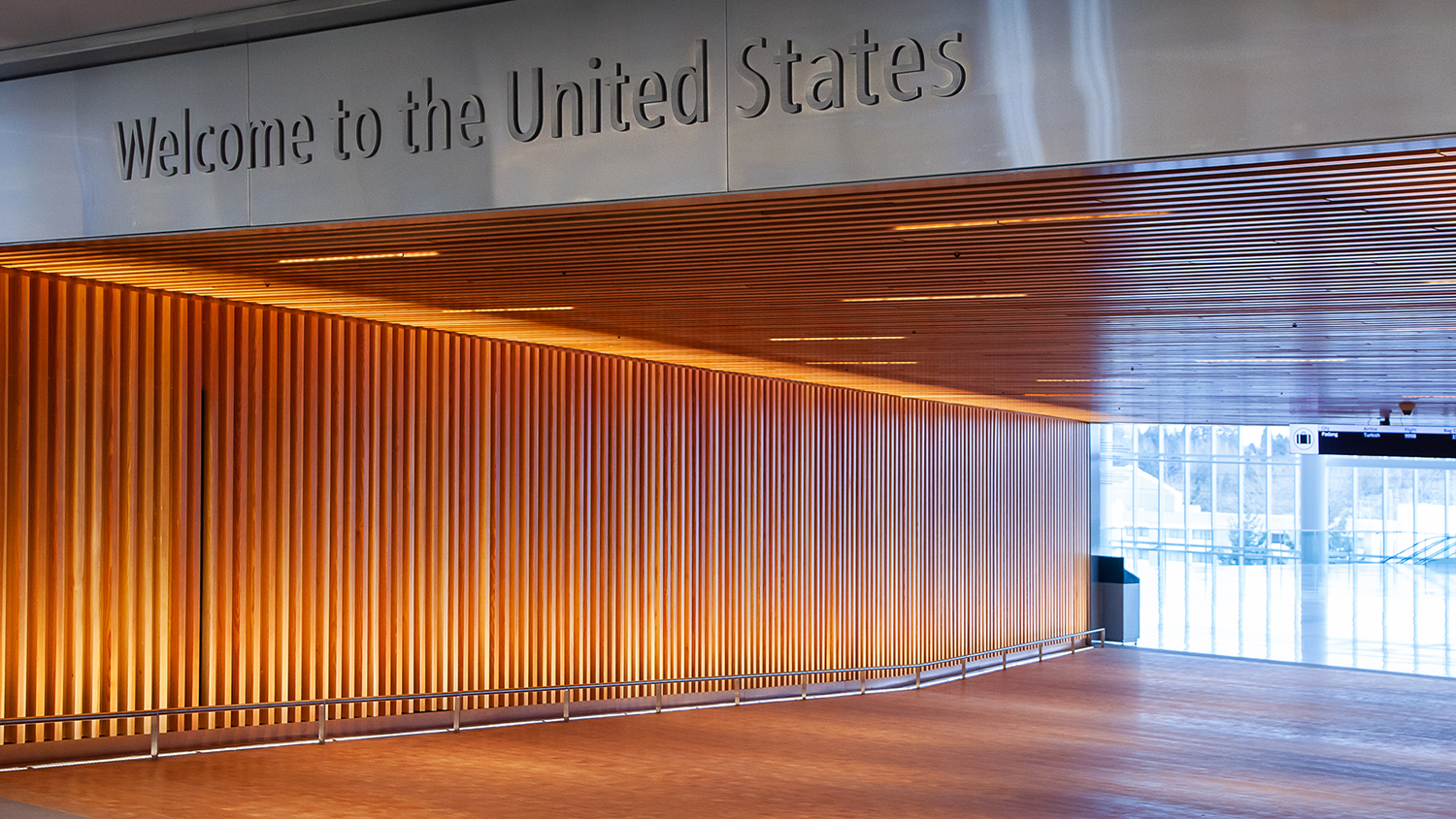 Airport offers first glimpse as major construction wraps and testing reaches final stages
Seattle-Tacoma International Airport (SEA) today reveals its modern welcome to the world, demonstrating how the new International Arrivals Facility (IAF) dramatically enhances the travel experience and advances Puget Sound as a tourism gateway and leading business.
Interested travelers are invited to follow the unveiling of the international arrivals facility through a video reveal program that will be streamed for audiences around the world.
The reveal comes as major construction is complete, but before full passenger operations this spring. The final readiness tests by the airport and its partners will take place over the next few weeks.
The spring opening comes just in time to support the continued recovery of international travel. Demand for Seattle has remained high even during the past two particularly difficult years. Since 2020, SEA has welcomed several new international services, including Qatar Airways to Doha, WestJet to Calgary, American Airlines to London and Alaska Airlines to Belize. Other new destinations coming in 2022 are Air Canada to Montreal in May, Aer Lingus to Dublin in May, Delta Air Lines to London in May, Alaska to Edmonton in April and Finnair to Helsinki in June.
The IAF, consisting of the pedestrian bridge, the secure corridor and the Great Hall, is the most complex capital project in the history of the port. While the modern design of the three new facilities takes center stage, the IAF also provides a memorable gateway to international travel and commerce for the Pacific Northwest that showcases regional art, spectacular views, sustainability and the world's longest aerial walkway on an active taxi. way! It took nearly three million man-hours to build this facility, including nearly one million minority man-hours (35%), more than 500,000 apprenticeship hours (19%), and more than 139 000 (5%) hours of work by women.
Replacing the current 50-year-old customs facility, the IAF increases the number of international gates at the airport from 12 to 20 and more than doubles passenger capacity to 2,600 passengers per hour (from 1,200 today ).
"We needed to improve the customer experience to make travel less stressful and more predictable," says Lance Lyttle, Managing Director of SEA Airport. "This is your first impression of our region and our airport. Everything from the views out the window to the simplicity of your path should put you at ease."
"Everything about this new facility – from its design to its artwork to its views, and even the way passengers move through the building – demonstrates our region's most enduring values ​​and reinforces our commitment to being the best-connected, most convenient, most sustainable and most welcoming airport in the world," said Ryan Calkins, Chairman of the Port of Seattle Commission.
"Delta customers will surely appreciate the benefits this magnificent, state-of-the-art international arrivals facility will bring to their travel journeys," said Eric Phillips, SVP — Airport Customer Service and Cargo at Delta Air Lines. "As Seattle's largest global airline and the future largest user of the IAF, Delta is committed to improving the customer experience in a way that will serve Seattle well in the future, while helping to meet the demand growing regional international services from this gateway for business and tourism.
"From our home airport here in Seattle, Alaska Airlines connects the world with our fellow members of the aglobal global alliance and our other airline partners," said Nathan Piper, Senior Vice President of Fleet, Finance and Alliances at Alaska Airlines. "The International Arrivals facility will provide a modern and stunning welcome to all of our guests arriving from destinations around the world. From June, aworld will offer the most nonstop flights to the most international destinations — an average of 22 daily international flights, including our service to Canada and Mexico.
"Over the past 10 years, Emirates has had a long and successful partnership with SEA, and we are very proud of the important role we play in connecting Seattle customers – business and leisure – to and through our hub in Dubai. The investment and opening of the new international arrivals facility at Seattle Airport enables our customers to enjoy a luxurious and seamless transition to their Emirates inflight experience and further reinforces our commitment to SEA Airport and Seattle's economy and broader tourism market," said Essa Sulaiman Ahmad, Divisional Vice President of Emirates Airline – USA and Canada.
"Clark Construction is honored to have played a role in delivering an iconic new footbridge for the Seattle area. This installation is the culmination of years of hard work by hundreds of local businesses, including more than 250 diverse small businesses. It's a testament to the skill and tenacity of the thousands of men and women who have helped us make this a reality," said John O'Keefe, President of Infrastructure for Clark Construction Groupthe company responsible for the design and construction of the IAF.
"We have designed a series of dramatic and bright spaces that allow travelers to move more efficiently through the international arrival process, enhancing the passenger experience," said Michael Duncan, design partner at SOM. "Airports play an important role in welcoming travelers to their destination. This building and the bridge have a lightness and open quality that celebrates the rich landscape of the Pacific Northwest.
"The investments at SEA Airport have created thousands of good family jobs in our local communities, and they will help train the next generation of construction workers, opening new doors through apprenticeships for women, people of color, veterans and others who are disadvantaged. This economic opportunity would not have been possible without a strong partnership under our project working agreement with the port," said Monty Anderson, Executive Secretary, Seattle Building & Construction Trades Council.
Welcome here, welcome home
SEA has just been certified as the second major hub airport in the United States to earn the travel industry's prestigious Skytrax 4-Star Airport Rating. This achievement follows a series of improvements that enhance the airport experience, including beautifully modernized spaces such as the international arrivals facility.
More predictable and less stressful arrival and customs clearance:
Almost doubles international doors from 12 to 20
Increases passenger capacity by more than double to 2,600 passengers per hour
Additional amenities such as nursing rooms, pet relief areas and restrooms throughout the customs journey
Incorporates enhanced technologies for faster passport clearance
Increases the size and number of bag claim carousels from four to seven
Reduces minimum passenger connection time from 90 to 75 minutes
The IAF is as smart and efficient as it is sustainable and designed with Pacific Northwest values.
In order to fulfill the Port's mission of environmental stewardship and sustainability, this facility incorporates important green building elements:
Low-flow plumbing fixtures to reduce indoor water usage
Energy saving features such as LED lighting, energy efficient escalator motors and variable speed motors on baggage handlers
Two-thirds of the building is lit with daylight to connect travelers to the outdoors, boost circadian rhythms and reduce energy consumption
Conscientious construction with 7,163 tons of contaminated soil and 62,405 gallons of impacted stormwater removed from the project site, many materials from within 100 miles, low-emitting adhesives, materials and coatings, and most construction waste was diverted from landfills
The architecture of the IAF reflects the beauty of the Pacific Northwest, and even the artwork evokes the natural beauty of this region through color, shape and movement. Color choices, architectural elements and artwork will welcome travelers to the natural beauty of our region:
Sunrise, mountain views, and natural light fill the floor-to-ceiling windows
Materials feature the blues of sea and sky, and the greens and organic textures of mountains and forests
Over 100,000 square feet of terrazzo flooring sourced from local stone forms a rocky pattern that evokes the colors and textures of a rocky Pacific Ocean beach
Wood accents bring warmth and nature to the space
A courtyard with plants and trees will give off a glow of our namesake emerald green as you exit to the rest of the airport
Chalchiutlicuea five-piece sculpture by artist Marela Zacarías, above bag-collecting carousels inspired by the colors of the waterways and sunsets of the San Juan Islands
Magnetic anomalythree kinetic works of art created by Ned Kahn, feature spinning suspended metal mobiles that are inspired by the ever-changing wind and weather of the Pacific Northwest
Indigenous art is installed throughout the IAF with works by six Native American artists, including renowned glass artist Preston Singletary and interdisciplinary artist Marie Watt
Beyond its regional beauty and sustainability, the IAF serves the needs of our global and diverse community. The Port of Seattle is one of the main contributors to the region's economic recovery, and it depends on a thriving, welcoming and inclusive international airport for all.
For images and video options, please refer to the links below:
Subscribe to FlySEA to stay up to date with news at SEA Airport
Contact
Perry Cooper | SEA Airport Press Officer
(206) 787-4923 | [email protected]