'Rimini': Review of Berlin | Comments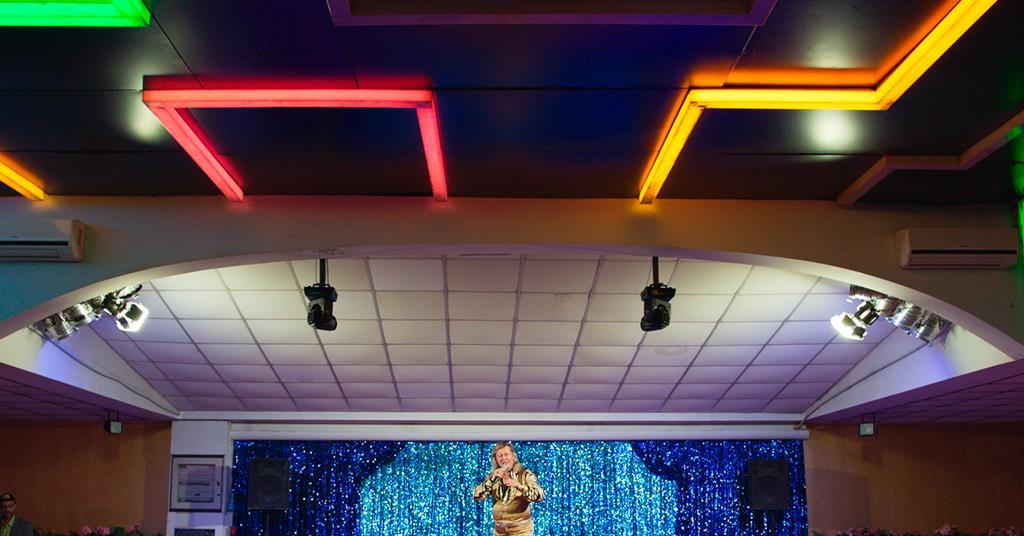 Real. Ulrich Seidl. Austria/France/Germany. 2022. 115 min.
Ulrich Seidl's latest film is set in an off-season resort — which is good, because the Austrian writer-director's specialty is the off-season human soul. A seasoned painter of human abjection, but invariably with a comic touch and no doubt a hint of cruelty, Seidl is in characteristic mode in Rimini. His return to fiction for the first time since his 2012-13 paradise trilogy, following two documentaries, Rimini is very much a portrait film, centered on a larger-than-life character, a slammed cabaret crooner. Michael Thomas' towering performance will be the hook for a film that, while executed with typical Seidl's steely control, might seem too familiar to its followers – while non-followers will find its darker dimensions altogether too dark for comfort.
Which give Rimini its unifying comic vigor and pathos is the central performance of Michael Thomas
Not that comfort was ever in Seidl's palette. The film begins with a shot of old people lined up in their chairs in a nursing home – from which a resident with dementia is desperately trying to escape. The man, played by the late comedian and director Hans-Michael Rehberg (Rimini is his final screen appearance and is dedicated to him), is the father of two adult sons – one of whom comes lumbering out of a rainy night to visit him. It's 'Richie Bravo' (Thomas), an aging cabaret singer who seems to have once enjoyed success as an Austrian mix of Johnny Hallyday and Demis Roussos, but is now firmly on the slippages. After stopping to join his brother at the family home, Richie sings a tender song at his mother's funeral – his dad, of course, having no idea his wife is dead.
Then Richie returns to the Italian resort town of Rimini, which in winter seems permanently shrouded in deep fog, and where African migrants slump neglected and ignored on the sidewalks. Richie has a sanctuary to his former glory in his once posh but inevitably cheesy and now dilapidated home – a triumph of the low-rent 80s tactic by the film's design team. Very strapped for money – having exhausted his funds on booze and high living – Richie earns a modest income entertaining parties of elderly tourists and renting out his house during the holidays, while bivouacking in a dingy hotel closed for Winter. Richie also has romantic relationships with older female admirers, including Annie (Claudia Martini), who had to take her crippled mother to a hotel. In fact, Richie unabashedly puts his old-school bravery and seemingly useful priapic skills to measured use as a gigolo. No matter how things turn out, the unstoppable Richie is still able to weather the storm – until a young woman named Tessa (Tessa Göttlicher) shows up to pressure him…
Rimini may seem like the image of a monster, and Richie is certainly grotesque (it's surely no coincidence that Seidl set his film in Fellini's birthplace). He's a swaggering narcissist with his extensive wardrobe of old-fashioned euro-dandy schmutters (costume designer Tanja Hausner's top marks for all the frock coats, tight pants, and lightly worn gold fabrics), and he's downright miserable as struggles to resist ruin. However, we can't help but find him sympathetic, while he makes compliments (false or semi-sincere?)
However, just as we're more willing to accompany him as a redeemable, worthy, and even honorable lost soul, that's when Seidl hits us with a dramatic twist that shows the character's truly ghastly side – what's more, immediately after Richie and two women share a truth session that's utterly mind-blowing.
Seidl has always specialized – both in his fiction and in his artfully stylized documentaries – in the crumbling facades of Austrian society, and the humor here is in keeping with that, as Richie caroling testifies, "Love me…" to cover his father's rendition of what appears to be a Nazi-era anthem to German power. Richie makes his point clear in his first appearance by muttering to some passing Muslims, though he is quick to insist that he is not racist. Tessa will put that claim to the test in a strange development of the final act that walks conflictingly on a delicate line in joking about race and otherness (although one is bound to be troubled by the use by the film of silent African migrants as, essentially, props in some shots).
The film is executed with Seidl's characteristic meticulousness, with cinematographer Wolfgang Thaler's often overly composed shots laden with empty space and contrived symmetry; some foggy beach images look almost like abstract canvases. And yet, one feels that Seidl is retreading a bit of familiar territory, thematically and stylistically – and that this film doesn't quite have the questioning and confrontational side of the paradise movies. And the final section, while delivering a satisfying and unlikely resolution, comes too late in a film that's too stretched out not to feel like it's taking us on a tangent.
Which give Rimini its unifying and pathetic comedic vigor is the central performance of Michael Thomas, who appeared in Paradise: Hope and, as a character considerably more ghastly than Richie, in Seidl's ruthlessness Import / Export. Strutting around in his snakeskin boots and bulky sealskin coat, but visibly shivering beneath the real and figurative winter, he gives Richie a goofy swagger reminiscent of Ugo Tognazzi in his faded rake period. Plus, Thomas has the passable lungs to carry off Richie's dog-eared repertoire of Italian-tinged German-language ballads — one of which, the odd Western-themed "Winnetou," is Thomas' own plausibly kitschy composition.
Production company: Ulrich Seidl Filmproduktion
International sales: Coproduction Office, [email protected]
Producers: Ulrich Seidl, Philippe Bober, Michel Merkt
Screenplay: Ulrich Seidl, Veronika Franz
Photography: Wolfgang Thaler
Publisher: Mona Willi
Production Design: Andreas Donhauser, Renate Sturminger-Martin
Music: Fritz Ostermayer, Herwig Zamernik
Main cast: Michael Thomas, Tessa Göttlicher, Hans-Michael Rehberg, Inge Maux, Claudia Martini, Georg Friedrich