Review: 'Nightmare Alley' serves up a sumptuous modern noir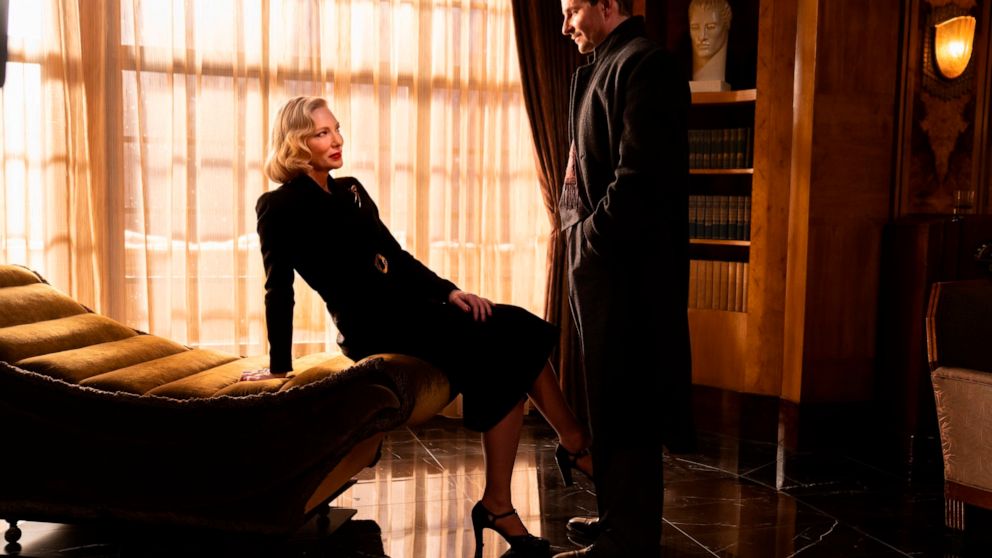 [ad_1]
Bradley Cooper plays a charming con artist from nowhere in Guillermo del Toro's "Nightmare Alley," a noir classic based on a 1946 novel about a man who goes from a low-level carney to a big-city artist.
A title like "Nightmare Alley", especially when paired with a filmmaker like Guillermo del Toro, suggests a certain type of film. Del Toro, the director of "The Shape of Water" and "Pan's Labyrinth", has a distinctive style after all.
But "Nightmare Alley" isn't about a haunted house or the supernatural. He's a black man who is rooted in a recognizable, albeit exacerbated, reality about the brief rise of a handsome low-level carney con artist to highly paid showman. And it's a decadent feast, in scope, length, potency, and production quality, as well as an exciting start to del Toro.
Fans of classic films may recognize the title for its significance in Tyrone Power's career. The 1947 film, directed by Edmund Goulding, was a passionate project for Power, who wanted to play something darker than the romantic swashbucklers who made him a star. Critically it worked – he got the best reviews of his career – but it was a financial crisis. And while it may be a classic for the crowd at TCM and Criterion Channel (where it currently airs), it's not something a casual movie fan should know.
Even a movie buff like del Toro stumbled upon the book first, a downstairs story about showbiz silliness and the weird guys it attracts. Ron Perlman, who plays the carnival strongman Bruno, gave it to him almost 30 years ago. And with the help of co-writer Kim Morgan (a wonderful film historian), they honed and polished a B-movie story into a tasty A-list joint, with Bradley Cooper leading the way as the brilliant and tragic Stanton. Carlisle. While Cooper doesn't have a typography problem at this point in his career (he's made sure of that), Stan is one of those irresistible roles, no matter how you cut him, an enigmatic and manipulative charmer, whose intelligence and ambition are its safeguard, grace and Achilles' heel.
Stan can be presented as Indiana Jones, fedora tilted while lighting a match, but you know this guy is no hero. Even so, you like him a bit as he stumbles upon a carnival funfair in the late 1930s and quickly turns from intruder to confidant of some of the top bands. He walks in with the owner (Willem Dafoe), gets closer to a psychic, Zeena (Toni Collette) and her alcoholic husband Pete (David Strathairn) learning the ropes, and becomes loved by a pretty artist, Molly ( Rooney Mara).
However, carnies are just stepping stones to something bigger, and we soon find ourselves in what feels like a different, more glamorous movie as Stan and Molly take their mental act to the big city. It's there that they meet Cate Blanchett's psychiatrist, Dr Lilith Ritter, a classic femme fatale teeming with elegance and whiskey, and begin to get over their heads. Special mention must be given to Production Designer Tamara Deverell, Artistic Director Brandt Gordon, Set Designer Shane Vieau and Costume Designer Luis Sequeira who build two delightful cinematic worlds – one of post-depression grime and misery and the another of decorative splendor.
The themes are just as grandiose: there is a lot of talk of good and bad, of playing God, of responsibility, of money and of loyalty and of a pervasive fear of the fall. Stan knows what the background looks like, and an obsession with avoiding it will keep him budding. The themes are obvious and a bit old-fashioned and so is the trajectory. But that's not a ding: it's just a carefully crafted story that stays true to its genre and time. And I hope this isn't the last time Morgan and del Toro have brought a hidden gem to life.
"Nightmare Alley," a Searchlight Pictures release in theaters Friday, is rated R by the Motion Picture Association of America for "sexual content, nudity, language and strong / gory violence". Duration: 150 minutes. Three out of four stars.
—-
MPAA definition of R: Restricted. Children under 17 must be accompanied by a parent or adult guardian.
—-
Follow AP screenwriter Lindsey Bahr on Twitter: www.twitter.com/ldbahr

[ad_2]