OCEAN RESIDENCES DEVELOPMENT LTD ANNOUNCES THE APPOINTMENT OF INTERNATIONAL INTERIOR DESIGNERS TO CREATE A SENSE OF HOME ON BOARD M / Y NJORD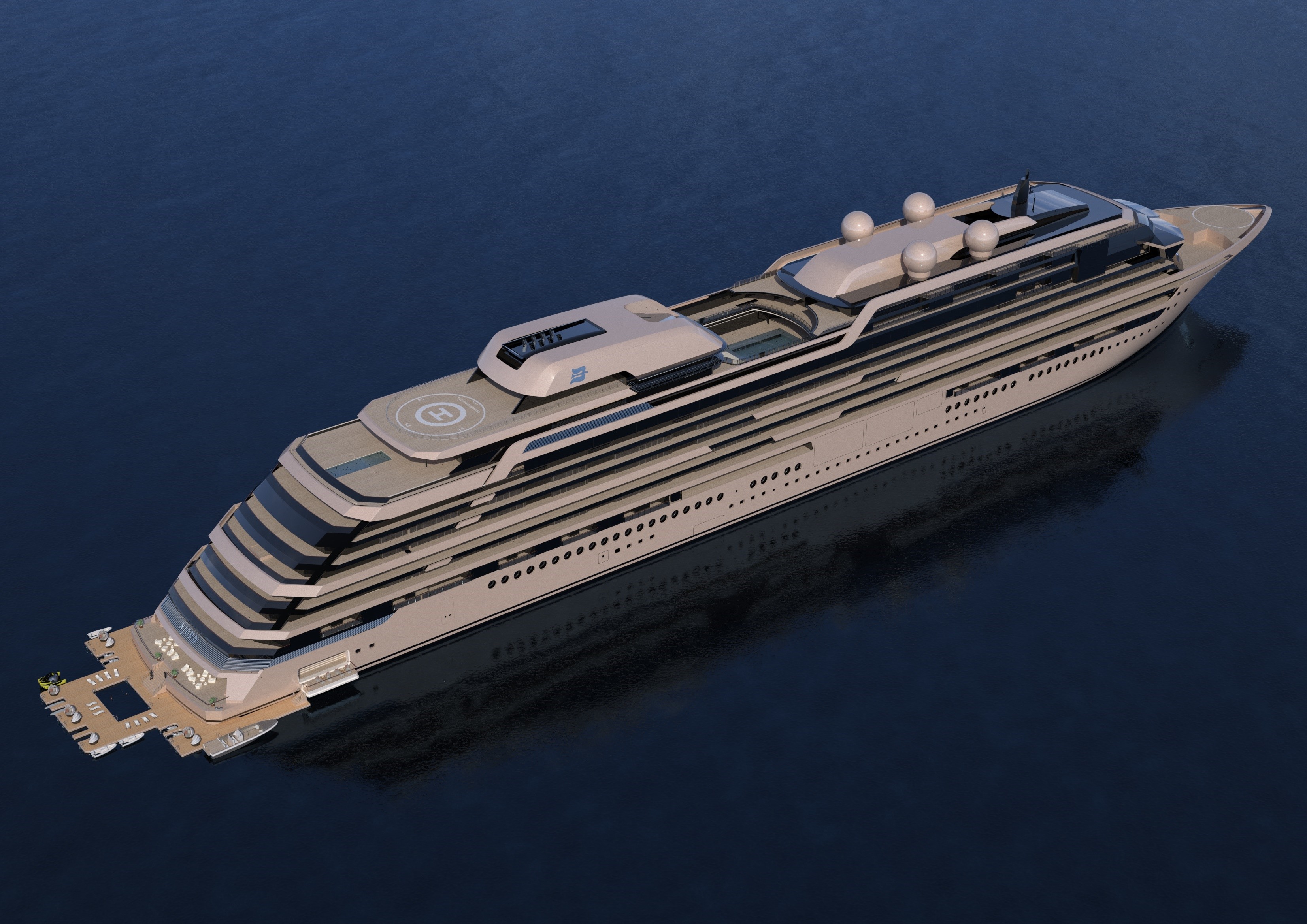 The directors of Ocean Residences Development Ltd. (ORD) announce the appointment of a significant selection of international interior designers who will be hired to design and create the interiors of our residential yacht, M / Y NJORD. Informed to prepare the concepts of one of the Penthouses and a beautiful residential apartment, these houses will see the sun set in a different place all year round.
Jean-Michel Gathy | DENNISTON.
Born in Belgium, Gathy has spent much of his adult life in Asia. After founding his architecture and design studio, DENNISTON, in 1983, he became the go-to name for the creation of innovative and avant-garde designs for top luxury hotels around the world. It is the result of mixing his European upbringing, his upbringing and his way of life. Gathy's recognized signature aesthetic and exposure to the luxury lifestyle along with his deep passion for travel and conservation made him a clear choice for the team behind M / Y NJORD – his values. Aligning very closely with the founder's vision of conservation, adventure, community and philanthropy.
"I've traveled my whole life and this has actually been my school of learning," says Gathy who, due to various work commitments, is typically away from home for up to 200 days a year. "People often ask me what triggers my creativity? I believe that while traveling, you subconsciously merge a library of visual information, emotions and experiences, which sculpt the mind and the brain. Luxury hotel brands and developers are making room to enable the integration of all of these assets into their products, whether in hotels, resorts, yachts or real estate.
***
Francesca Muzio | FM Architettura.
Architect Francesca Muzio co-founded Italian studio FM Architettura in 2010 after working on no less than 112 of the world's most prestigious superyachts in her previous creative role at CRN – Custom Line, Ferretti. FM Architettura is today a world leader in interior design with a wide range of distinctive projects not only in the yachting field, but also in the luxury hotel and residential sectors. Eclectic style, individuality and aspiration are the basis of each project. Francesca's design expertise led her to join the prestigious international panel of judges at the 2021 Dezeen Awards. Her most acclaimed projects in London include the famous Shangri-La Hotel's famous Presidential and Signature Suites, At The Shard, London, along with the new launched the 90-meter M / Y Zen, while the 63-meter super-yacht Oasis, built by Lürssen, won Boat International's World Superyacht Awards in 2020. Based in Ancona, the studio works with the best Italian artisans, known as "Mani d'Oro" who weave together the richest aspects of design, creating an individual depth, soul and personality for each home and space.
"Our customers buy a home for life aboard M / Y NJORD, and the center of our inspiration is always the person, their emotional relationship to their home and their lifestyle. This sense of belonging, together with health, well-being and sustainability are at the heart of our designs, "explains Francesca. "Each of our original designs is the result of a unique creative process that begins with exploring the client's personality, integrating their ideas and discovering their specific passion and lifestyle. Individuality and aspirations are the basis of every project. The philosophy of the studio is "I am at home".
***
1508 London.
1508 London is a design studio specializing in the design of upscale private residences, luxury and boutique hotel projects, and residential developments, as well as yachts and product design. Born from the idea of ​​perfection in design, their name is derived from a time in the year 1508, when a then unknown artist named Michelangelo, armed only with a pencil, showed up to the Pope Julius II and was commissioned to paint the ceiling frescoes of the Sistine Chapel. Deeply rooted in a collaborative approach, their designs are drawn from measured principles, inspired by history, geography and the local architectural vernacular. Their expertise extends to all stages of design and construction, starting with feasibility studies, planning requests, conceptual and detailed design, through on-site construction monitoring, procurement. , dressing and delivery. The company takes great pride in ensuring that every project is completed to the highest level of quality. With offices spanning four continents, 1508 London offers top notch design service and is a collective of authentic workshop studios with a global reach.
***
Kelly Hoppen Interiors.
The multi-award-winning designer will create exquisite moments of luxury and personal enrichment while paying homage to the form, function and craftsmanship of M / Y NJORD's 289m residential yacht. Every dimension of the project will be organized with meticulous attention and detail. With thousands of projects over the past four decades, Kelly and her team are experts in creating multi-faceted couture interiors and in advising on all aspects of a project from concept to implementation and at the delivery. The team's diverse portfolio of unique projects includes some of the world's most exclusive residential buildings, private homes, private jets, five-star hotels, and groundbreaking cruise and yacht projects. Having changed the face of the design industry with her signature East Meets West style, Kelly's ever-evolving style, defined by a subtle fusion of clean lines and neutral tones, is intuitively balanced with opulent warmth. Her passion for design and understanding customer needs is what Kelly lives and breathes every day, for 45 years as a designer. Commenting on her nomination, she said: "I am truly honored to have been chosen to be one of the designers of the extraordinary yacht NJORD. Being able to create homes for the people aboard the M / Y NJORD gives me great pleasure, as I am passionate about designing couture and unique interiors and spaces that reflect the needs and individuality of the residents. I look forward to bringing my vision to life and continuing to push the boundaries of luxury design.
***
LINLEY.
Founded by David Linley in 1985, LINLEY has a world-renowned reputation for fusing striking design with exemplary craftsmanship. David, son of Princess Margaret (sister of Queen Elizabeth II) and famous photographer Lord Snowdon, developed an interest in woodworking in school in England. He then studied woodworking craftsmanship at Parnham House under the guidance of the famous John Makepeace. From the start, LINLEY pushed the boundaries, bringing together the world's best designers with master craftsmen. LINLEY Interior Design, founded in 2007, has developed an international reputation for creating interiors that represent the best of British design. The style is elegant and eclectic, forming unique patterns renowned for their craftsmanship and detail. The NJORD penthouse project was inspired by modern Art Deco. This design evokes the 1930s with the incomparable elegance of its naval architecture.
***
Sabrina Monte-Carlo.
Sabrina Monte-Carlo, the iconic interior design studio based in Monaco since 1999, comprises six elegant showrooms, all located between the Principality and the port of Saint Jean Cap Ferrat. This family business – made up of a responsive team of around forty multilingual specialists, naval architects, interior designers, experts in fabrics and tableware and graphic designers – has become a benchmark for yacht owners and professionals. The studio's designs adorn over 150 of the world's largest yachts and the portfolio now includes contemporary villas on the French Riviera, grand palaces in the Middle East, Louis XV apartments in Paris, rustic chalets in the Alps Swiss and modern private jets. With its refined selection of manufacturers and its own collections, Sabrina Monte-Carlo strives to be a unique destination when it comes to design: selection of the most unique outdoor and indoor furniture, upholstery and linens. house, dishes, accessories, light fixtures, rugs and now even children's items. furniture. The studio applies its Mediterranean aesthetic that is both warm and contemporary while taking into account all the needs and demands of its international clientele.
***
PINTO.
The legendary interior designer Alberto Pinto was inspired by cross references of cultural references from an early age. Born in Casablanca to Argentinian parents in 1943, he continued his studies at the Ecole du Louvre in Paris before founding a photo agency in New York. Pinto began designing for his friends, creating eclectic interiors in a variety of styles with bold and daring details, creating the Parisian studio in 1968. His sister, Linda Pinto, took over the studio in 2012 when the iconic designer passed away. . Eclecticism, luxurious details and refinement remain the watchwords when creating interiors for prestigious clients around the world, including the royal families of Saudi Arabia and Qatar. PINTO has designed the interiors of 10 of the world's 100 largest yachts as well as numerous private residences, airplanes and hotels, including The Lanesborough and The Dorchester in London. True "interior architecture".
***
FOR MORE INFORMATION ON M / Y NJORD:
www.my-njord.com
FOR PRESS IMAGES:
www.bit.ly/NJORD_DESIGNERS_PRESS_PHOTOS
PRESS CONTACT FOR IMAGES AND INTERVIEW REQUESTS:
Rosalind Milani Gallieni
RMG RP and events
E: [email protected]
T: +44 7778 625710