MSU leadership discusses pathways to current administrative roles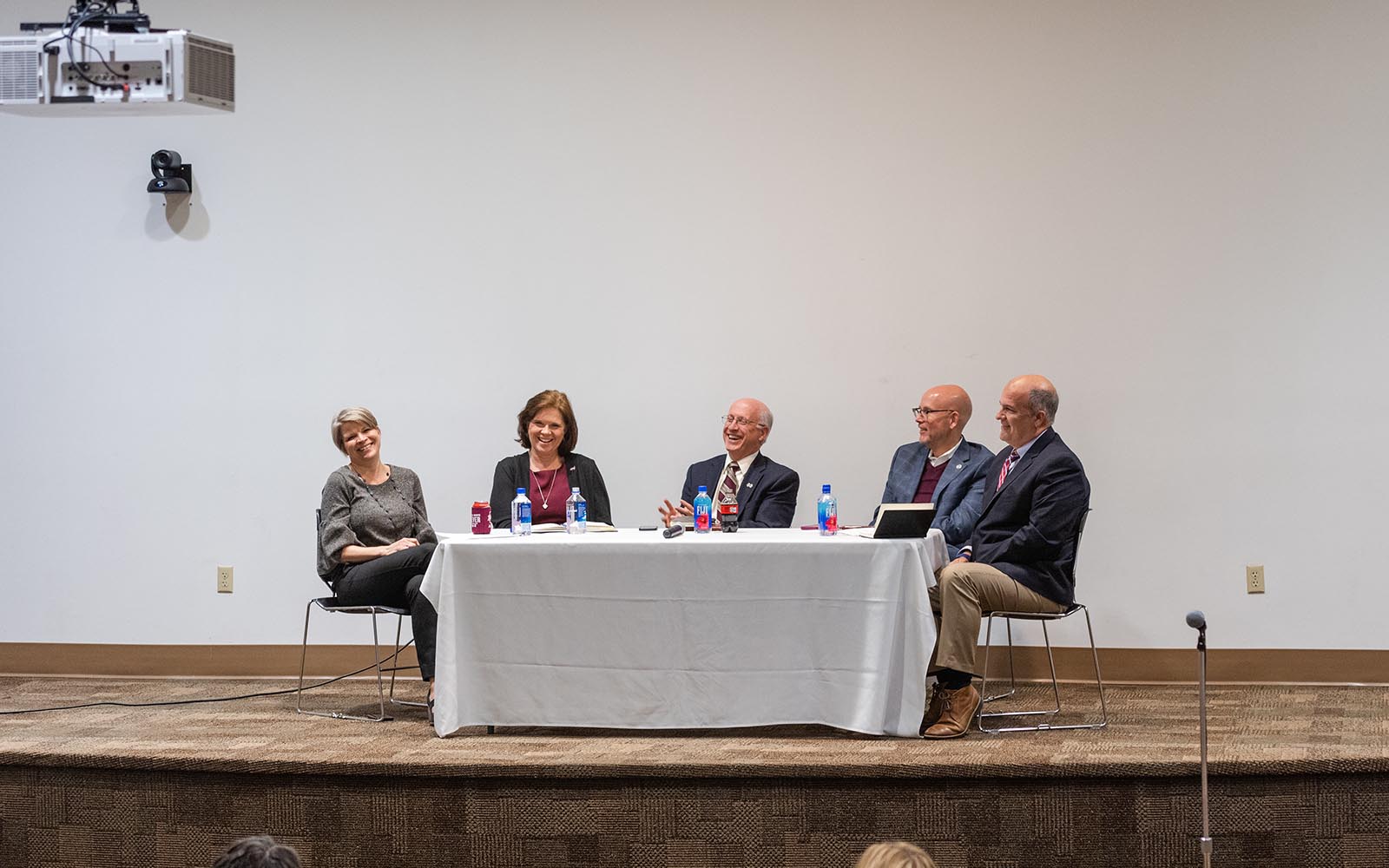 Contact person: Carl Smith
STARKVILLE, Mississippi — A panel of Mississippi state leaders said recognizing opportunities when they arise, ensuring the time is right for a new role, and continuously developing skills that stand out from the crowd helped them climb the ladder of higher education and land the jobs they currently hold.
MSU faculty and staff gathered Thursday [April 7] for "Let's Talk About That!", a panel discussion featuring Acting Dean of Shackouls Honors College, Tommy Anderson; Angi Bourgeois, Dean of the College of Architecture, Art and Design; Susan Seal, MSU Online Executive Director; provost and executive vice president David Shaw; and Vice President of Finance and Administration Don Zant. The series of seminars sponsored by MSU human resource management highlighted how far top university leaders have come to rise to the positions they currently hold.
Each participant said that they did not have a specific plan for a career in higher education after graduating from high school, but different opportunities presented themselves throughout their professional journey and led them to MSU.
"Some people, when they are 5 years old, know they want to be veterinarians. My career path hasn't been like that at all. I didn't know what I wanted to do, but I knew I wanted to make an impact somewhere. I wanted to make a difference," said Seal, who previously held key positions at an Atlanta, Georgia-based marketing firm before joining MSU in teaching, communications and management roles at the College of Veterinary Medicine. , Extension Service and Center for Distance Learning. "My career path is all over the place, but all of those things had transferable skills to the next thing. All of these seemingly disconnected things came together and created this path.
Zant, who earned numerous accounting certifications and served as a lead auditor at a private firm before joining Texas Tech University as assistant director of internal audit, said his move into the public sector was made because the need to readjust his work schedule. At the time, the new father was spending many days traveling for work and he wanted a work-life balance that would allow him to be home with his family more often.
"I would be a partner in my business right now, but I wouldn't have been able to watch my kids grow up or see my wife very often," he said. "The moral of the story is sometimes you have to roll the dice and do something that you're afraid of or maybe you're not prepared for."
Each panelist also highlighted the importance of improving their departments by using empathy with internal and external stakeholders and focusing on key issues that are paramount to the organization's mission statement instead of minor issues that hinder progress.
"It really comes down to trust, respect and vision. If you haven't established credibility and demonstrated integrity, it's hard to do anything in a position of leadership," said Shaw, who said he would be returned to the family farm in Oklahoma after graduating from undergrad without the poor market conditions and guidance to pursue graduate school. "If you have a confidence deficit, you're always going to work from the back, and it's very difficult, if not impossible, to go from negative to positive without building trust and respect.
"Someone told me a long time ago: the ability to be a good leader is driven by the ability to separate the urgent from the important," Shaw added. "It's had such a profound impact on me because in every position I've held, and especially in this one, urgency eats away at me and is a big distraction from what's really important to me. 'institution."
The organizers of the "Let's talk about it! the lecture series should announce future events as they are scheduled.
For more information about the series, contact Brad Skelton at [email protected]
MSU is the main university in Mississippi, available online at www.msstate.edu.