JDS Development Group Receives Funding to Build 64-Story Southside Park Mixed-Use Tower in Miami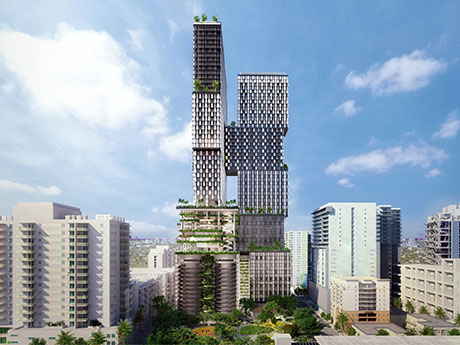 MIAMI – JDS Development Group has received $86 million in acquisition and construction financing for 1 Southside Park, a 64-story mixed-use project in Miami's Brickell neighborhood. Plans call for 1,175 apartments, 190,000 square feet of office space, a 200-room hotel, 10,000 square feet of retail space and 1,400 parking spaces.
The development will include the country's first Treehouse Hotel, as well as several food outlets and public spaces. As part of Brickell's rapid transit zone, the project will improve access to public transport, provide a direct connection to The Underline and reinvigorate Southside Park, according to JDS. The Underline is a 10-mile linear park, urban trail and public destination being built on land below Miami's Metrorail that will open in phases through 2025.
Design improvements proposed by Southside Park include an enclosed dog park, rest areas, water features, public art opportunities, playgrounds, a new basketball court, and space for active programming such as movie nights and community sporting events.
A Walker & Dunlop team led by Aaron Appel, Keith Kurland, Jonathan Schwartz and Adam Schwartz arranged the financing through Maxim Capital Group. An existing land acquisition loan was replaced with a construction bridging loan at a lower interest rate and higher proceeds.
The construction ends on the foundation works of the project. A timeline for completion was not provided.
SHoP Architects is the project architect, Rockwell Group is completing the interior design of the hotel, James Corner Field Operations is the landscape designer and Krista Ninivaggi of Woods Baggot is handling the residential interiors.
The tower design features a series of stacked structures. Each level is designed to create both form and function for the variety of uses – residential, hospitality, micro units, offices and wellness. The building will offer a health program on a membership basis.
Michael Stern, founder and CEO of JDS, says Brickell lacks an iconic park. In his eyes, public parks like those found in New York or Chicago help define cities. "Through our public-private partnership with the City of Miami, we will make significant improvements that will elevate [the park] with the Underline adjacent to the world-class status the Brickell area deserves.
This development marks the fourth large-scale project between JDS and SHoP Architects. Founded in 2002 and based in New York and Miami, JDS focuses on acquisition, development and construction.
—Kristin Hiller