Burnaby moves forward with $127M Confederation Park center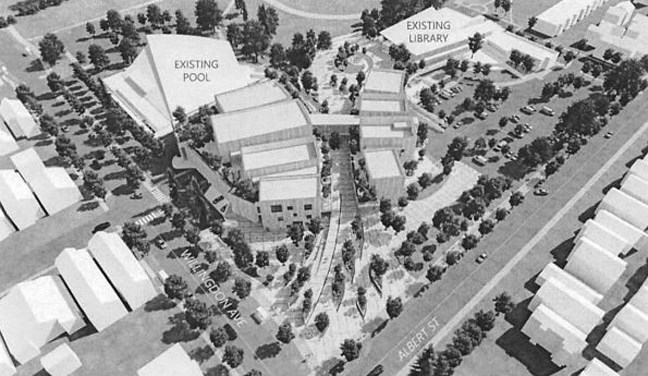 Burnaby Council is being asked to approve $10 million to move into the next phase of design for a massive new community center in Confederation Park.
The proposed community center will complement existing city facilities located in Confederation Park and "help meet current and projected future demand for community services in the city's northwest quadrant," a city staff report says. .
Costing an estimated $127 million, the project will add much-needed community space and connect existing facilities in an arc-shaped design. The project will see an expanded fitness facility that will include weight and cardio areas. There will also be a café with an outdoor terrace. The center will also include more multipurpose rooms and meeting rooms, as well as a community kitchen. There will also be a gymnasium area for indoor sports activities.
Confederation Park has three major community buildings: the McGill Branch of the Burnaby Public Library (built in 2001), the Eileen Dailly Leisure Pool and Fitness Center (built in 1992), and the Confederation (built in 1988).
"Existing facilities were built over different decades on different ground plans and exemplify varying architectural expression," the report states. "The complex is no longer adequate to serve the growing community in Burnaby's northwest quadrant. The abundance of asphalt parking between facilities is the dominant feature.
In August 2021, council passed recommendations to authorize staff to approve the final schematic design and move the Confederation Park Community Center project forward, and authorize the use of the Community Benefits Bonus Pool of 14 $750,000 to fund detailed design, city development approvals, tender documents and preliminaries. site maintenance and offsite costs.
The funding would be for work by Revery Architecture Inc., a Vancouver-based architectural firm with offices in Vancouver and Hong Kong.