"Abu Saddam": Cairo review | Comments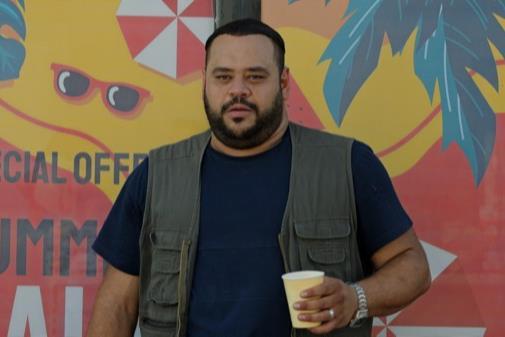 Director: Nadine Khan. Egypt. 2021. 98 minutes
A seasoned truck driver returning to the freeway and a young apprentice on his first trip provide a contrast of experience and attitude in Abu Saddam, Nadine Khan's second feature film after Chaos, Disorderr in 2012. This intriguing and finely-honed drama initially promises a combination of road trip and weird couples before morphing into a full-fledged portrayal of toxic masculinity and its destructive power. Mohammed Mamdouh's gripping subject and central performance are set to gain the film's international appeal after a world premiere in Cairo, where he won the Best Actor award for his performance.
Nadine Khan firmly maintains the pace and intentions of her story
Abu Sammad (Mamdouh) considers himself a king of the road. A sweaty, swaggering man, he has a high regard for himself and his abilities. This is his first job as a truck driver in a few years, for reasons we won't find out until later. He's clearly in his element of getting back behind the wheel, back on the road. His truck is his world and decorator Assem Ali chooses the little details that personalize it, from the toy floating on the dashboard to the prominent photo of a loved one.
Hassan is his new assistant. It is he who is required to check the oil and water, monitor the dangers of the road, take a helmet if the mobile rings or make life easier for the driver in general. Ahmed Dash plays it with bouncy eagerness, displaying the excitement and nerves of someone eager to learn alongside a master. He is attentive to Abu Sammad's needs and has wide eyes as he feasts on stories. It is only during their journey that we discover how much he flatters to cheat.
First, Abu Saddam seems to have affinities with Steven Knight Locke (2013). The truck hurtles down sunny desert roads that stretch as far as the eye can see. The action is mostly confined to the cabin, the interruptions have come from the constant phone calls and boastful conversations between Abu Sammad and Hassan. Abdel Salam Moussa's cinematography captures a sense of the tight space the two men occupy, but he never feels claustrophobic. They also have a window to the changing world that passes through them. The close-ups of a sweaty, sometimes smoothing Mahmoud, allow him to use a series of sarcastic and sideways glances to express his character's exasperation towards Hassan. He berates him for throwing an empty coffee mug out the truck window. "The road is our daily bread, do not throw garbage on it", he warns, making us believe that he has saving graces.
There are enough distractions and detours along the way to keep the audience engaged in the dynamic between the two. Everything is designed to slowly open the story, from a road raging encounter with a young woman to the decision to attend a family wedding. Saddam is very old-school, especially in his relationship with his wife Karima, who is never seen but who is the subject of many intimidating and controlling phone calls.
Nadine Khan firmly maintains the pace and intentions of a story that seems destined to humiliate Abu Sammad, eliminate his delusions, and expose all of its pitiful inadequacy. Stopped at a roadblock, he discovers that his old friendly contact has been retired for two years and that no one knows or cares who he is. A meeting with Nahla (Massour), invited to the wedding, leaves him reeling from his mocking attack, describing him as "the foam of the road". Abu Massad's anger management issues and sense of entitlement make him the architect of his own issues, but you almost start to feel sorry for him until another small act of revenge or the next untimely explosion. .
Hassan is a more overtly likeable figure although he shares Sammad's vision of himself as a player and irresistible ladies and has his eye on the main chance. While the film rips through Massad's misogynistic and dangerous delusions, it also provides Hassan with an object lesson in how not to behave. No matter how much damage is inflicted along the road of life, Abu Sammad is the one who suffers the most as a victim of self-inflicted injuries.
Production company: Sea Cinema Productions
International sales: iProductions, [email protected]
Producer: Ahmed Fahmy
Screenplay: Nadine Khan, Mahmoud Ezzat
Photography: Abdel Salam Moussa
Editing: Baher Rasheed
Production design: Assem Ali
Music: Sherif Tharmat
Main actors: Mohammed Mamdouh, Ahmed Dash, Zeina Mansour