9 best bathroom mirrors of 2021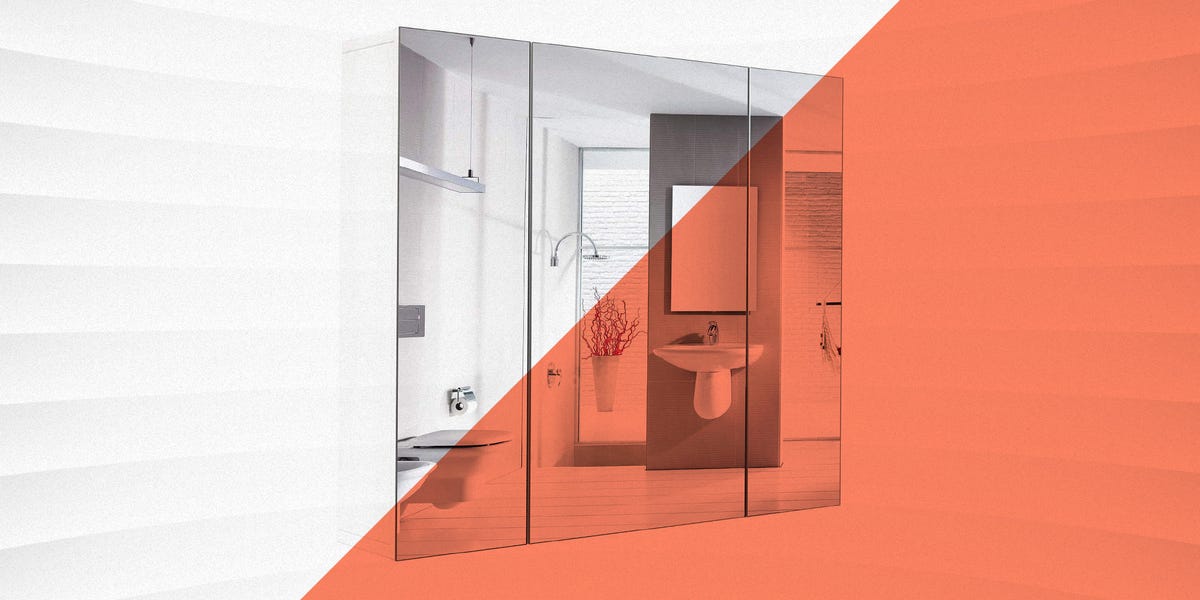 Staff, courtesy of Laurent
Whether you're starting to renovate your bathroom or looking to spruce up your current space, installing a new bathroom mirror can have a disproportionate impact. "Most people don't think about design when it comes to choosing a bathroom mirror, but it's arguably the most important decorative element in a bathroom," says Hillary Levy, interior designer for New York-based Lisa Kaye Designs. "The bathroom mirror can be both a functional storage unit and also the centerpiece of your bathroom. This guide describes the many choices available and how to choose the right one for your needs.
How to choose the right bathroom mirror
Dimensions: To get started, determine the space you have available and measure the height, width and depth available in your bathroom. These measurements can help you decide between a vanity with storage or a freestanding mirror, says Levy. She also recommends considering your own height, sink size, and wall space. "Typically, the mirror should be hung a few inches above eye level for the taller person who will be using it, but low enough that smaller people can easily see it," she says.
Aesthetic: While your space may dictate whether you choose a square, rectangular, or round mirror, this is also a personal aesthetic preference. There are framed and unframed options for all three shapes that will impact the overall feel of your space. "Keep in mind that frames add extra detail that can help fill a space, while frameless mirrors provide a clean, modern look," says Levy. Some can also be mounted vertically or horizontally to give you more options.
Storage room: The most common feature you might look for in a bathroom mirror is if it has shelves for storage. This provides a convenient space to hide bathroom essentials so they don't clutter your countertop, but you should choose a model that doesn't protrude too much so that you can still easily access your sink.
Lighting and magnification: If you do your makeup regularly, you may want to choose a table mirror or a magnifying hanging mirror, which can be used in addition to your standard vanity mirror or replace it in a compact space. You can also consider mirrors with built-in LED lighting which can help illuminate the space if your bathroom doesn't already have good natural light.
How we rated
We spoke with Hillary Levy, interior designer at New York-based Lisa Kaye Designs. Levy outlined the factors to consider when choosing a bathroom mirror and shared his top recommendations. We've looked at the different types of mirrors on the market, including those with cabinet shelves, LED lighting, and hanging mirrors with extra magnification. We have evaluated these options based on their design, quality and price. We've also factored in customer reviews of the top rated mirrors on retail sites like Wayfair and Amazon. These nine are the best bathroom mirrors available today.
Advertising – Continue Reading Below
Best rectangular frameless mirror
Lithonia Beveled Frameless Vanity Mirror
Postal code design
wayfair.com
$ 67.99
Key specs
Dimensions: 30 x 20 x 0.5 in.
Design: Without frame
The Lithonia Beveled vanity mirror comes in eight sizes and hangs against a wall using a simple, easy-to-install hook. "I love it for a super simple frameless mirror," says Levy. "Its ultra modern and sleek design will make any bathroom appear larger than it is." Made in Michigan, this mirror is designed with ¼ inch thick glass to provide crisp, clear reflection.
Available in several sizes
Hangs flush and easy to install
Some reviewers have said the mirror peels off easily
Best frameless oval mirror
Anaelle modern and contemporary beveled frameless bathroom mirror
Workshop Forged
wayfair.com
$ 73.99
Key specs
Dimensions: 36 x 24 x 0.25 inches
Design: Without frame
If you prefer an oval shape but still want a frameless mirror with a sleek look, Levy recommends the Anaelle as a great alternative to the Lithonia rectangular mirror. This one also hangs on the wall without any visible hardware for a sleek look, although some reviewers have complained that the hanging clips make installation more difficult. You can hang this oval shaped mirror vertically or horizontally.
Sleek appearance to match high quality construction
Can be mounted vertically or horizontally
Hanging clips are more difficult to install
Best wood framed mirror
Modern and contemporary beveled bathroom mirror Tribecca white
Dorel alive
wayfair.com
$ 224.74
Key specs
Dimensions: 38 x 24 x 1.8 inches
Design: Framed
The simple wooden frame of the Tribecca mirror creates an inviting atmosphere, yet is versatile enough to suit any contemporary or modern bathroom. Levy recommends the white trim for an even more modern aesthetic. The mirror is available in two different sizes and three different finishes: spicy chocolate, gray and white.
Versatile aesthetics
Three frame colors and two size options
Multipurpose medicine cabinet
Kohler 20 x 26 inch one-door medicine cabinet
Kohler
wayfair.com
$ 119.99
Key specs:
Dimensions: 20 x 26 x 4.8 inches
Design: Cabinet
This frameless aluminum medicine cabinet is a versatile choice for a functional mirror that includes storage space. Its sleek and simple design isn't overbearing, says Levy, and would go well with any space. Plus, it comes with two adjustable shelves to meet your storage needs.
Simple and versatile
Adjustable shelves
Large medicine cabinet
Laurent 3-Door Surface Mount Medicine Cabinet
Wade logan
wayfair.com
$ 104.99
Key specs
Dimensions: 27.6 x 23.7 x 5.8 inches.
Design: Cabinet
Alternatively, if you want a cabinet with three doors rather than one, Levy recommends the Laurent. It comes with two adjustable shelves that run the full length of the cabinet and you can reorient the opening direction of the doors. It's a particularly affordable option for the amount of storage you have thanks to the 5-inch deep shelves.
Good value for money
Adjustable shelves
Maybe less durable than more expensive options
Improved medicine cabinet
Graford frameless built-in medicine cabinet
Mercier41
wayfair.com
$ 309.99
Key specs
Dimensions: 26 x 16 x 5 in.
Design: Cabinet
Levy says the Graford built-in medicine cabinet is his favorite option for a frameless mirror that still adds a bit of character and design. The multiple bevels add a stylish touch, and you can set up this mirror to open right or left depending on your space needs. Plus, this mirror features two adjustable shelves and a defogger to prevent moisture buildup on the surface when you shower.
Mirror defogger
Sophisticated aesthetics
Mirror with LED lighting
Illuminated frameless mirror Aldora
Mercury Row
wayfair.com
$ 179.99
Key specs
Dimensions: 24 x 24 x 1.75 in.
Design: Frameless with LED lighting
The Aldoral adds a diffused glow of light to your bathroom and enhances any space. It is a great choice if you are looking to add more light to your bathroom. However, keep in mind that you will need to wire this mirror directly to the electrical wires. While it's not dimmable, reviews report it's not too bright.
Add a glow of light to your bathroom
Horizontal or vertical mounting
Does not come with a dimming function
Multiple magnifying mirrors
Vanity Modern Illuminated Magnifying Makeup Mirror
Fancii
wayfair.com
$ 58.99
Key specs
Dimensions: 14 x 12.6 x 4.3 inches
Design: Tray with additional magnification
Consider the Fancii Vanity Modern Illuminated Mirror if you can't hang your mirror up or just want an extra tabletop magnifying mirror for your vanity. Its three panels come with four mirrors, including 1x magnification on the right and a double mirror with 5x and 7x magnification on the left. The main mirror also features a dimmable LED light that mimics natural sunlight.
Multiple magnification mirrors
Maybe too bulky to fit into compact bathrooms
Simple and elegant framed mirror
Modern and contemporary mirror Weeksville
Orren Ellis
wayfair.com
$ 143.99
Key specs
Dimensions: 36 x 24 x 1.25 in.
Design: Framed
The Weeksville is an elegant framed mirror. It is available in multiple sizes (20 x 30 inches, 24 x 36 inches, and 30 x 40 inches) and can be oriented horizontally or vertically. The steel frame is available in white, silver, black, nickel and gold, and its stand is solid silver which will hold up well in a very wet bathroom.
Horizontal and vertical orientation
Durable silver backing
Some customers have received damaged mirrors
This content is created and maintained by a third party, and uploaded to this page to help users provide their email addresses. You may be able to find more information about this and other similar content on piano.io
Advertising – Continue Reading Below