7 decisions I make when choosing wallpaper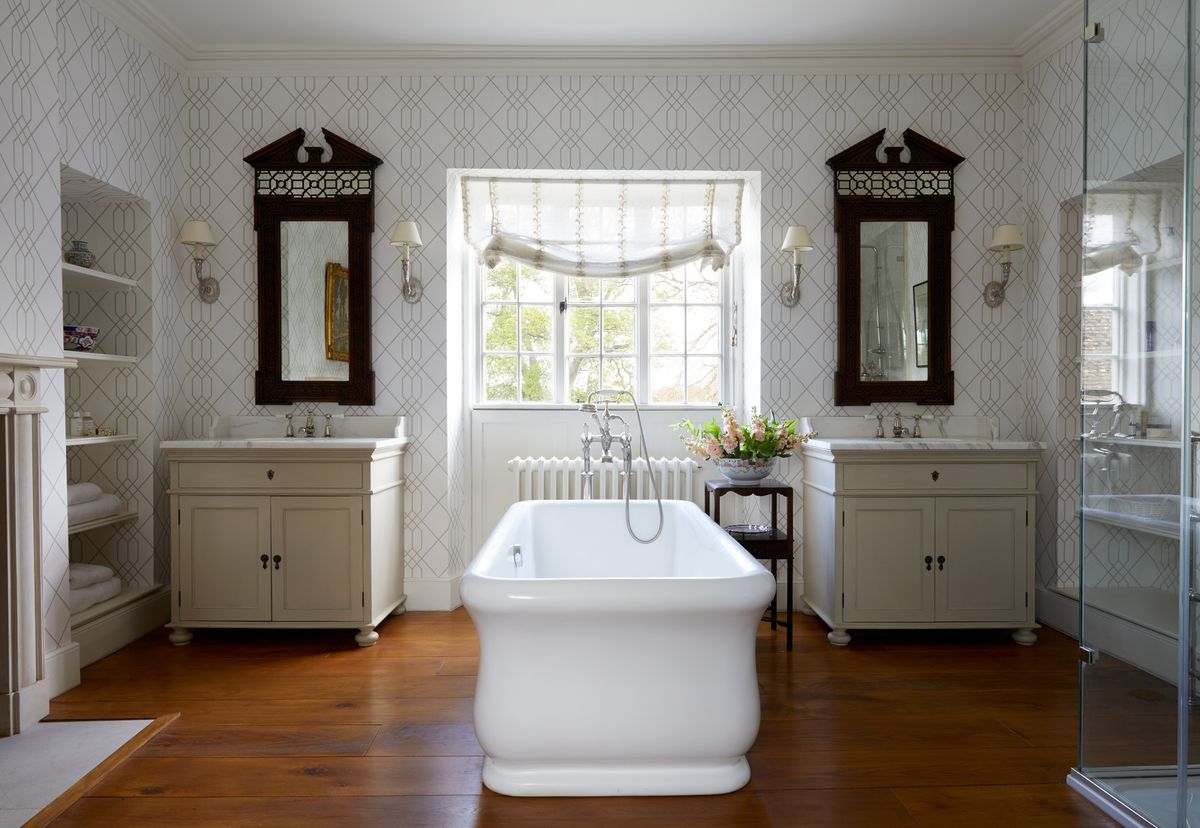 I love wallpaper and find reasons to use it all over the house, including kitchens and bathrooms. There are so many to choose from and its impact is so varied that it can be hard to know where to start when it comes to choosing a wallpaper design. In the right space, wallpaper ideas shouldn't dominate a room but rather be part of its overall impact.
Interior decorator
Henriette studied at the City & Guild of London Art Schools and completed an MA at Sotheby's Institute where she honed her appreciation and love for antique furniture and decorative design from the 17th to 20th centuries. She is also very involved in the sale of country houses which feeds her appetite for beautiful architecture of historical interest. Deciding to focus on interior design, Henriette studied at the prestigious Inchbald School of Design. After graduating, she gained experience working with leading interior designers, including Stephen Ryan, who had been head of David Hicks Design. She also had a spell in theater design that allowed her to indulge her more flamboyant side and made her realize how much she relishes any challenge.
1. I use wallpaper in unexpected places
A lot of people are understandably nervous about using wallpapers in kitchens, but I love doing this – kitchen wallpaper ideas immediately remove all harsh finishes from the room and help absorb sound.
Some kitchens are fine with a textured finish like grasscloth wallpaper (above), but I've also used Marthe Armitage (opens in a new tab)wonderful Pagodas for a kitchen (below).
Bathrooms are another favorite wallpaper space for the same reason: bathroom wallpaper ideas act as a foil for all the solid elements.
It's also worth bearing in mind that many wallpapers today are printed on much more durable papers than ever before, so check suitability before jumping to conclusions.
Obviously I wouldn't recommend using a tissue paper in a high traffic area, but many designs can be wiped clean, which means they can work really well for hallways, for example. This is an area where I particularly like wallpaper, especially in the case of large hallways in country houses. If there isn't a lot of art to hang, patterned hallway wallpaper ideas work great instead.
2. I deliberately choose between pattern and plain
Generally I think a larger scale pattern is better suited to a large room, but that's not always the case and sometimes those judgments can only be made when standing in the room itself. even and that one takes note of the natural light.
I absolutely do not neglect the use of patterns in small rooms. In a fun way, the pattern can make a small space feel bigger. I firmly believe that you can't go wrong with any of Robert Kime's selection of small scale models – they are brilliant. These also look great on the back of bookcases to add another layer of interest – provided they aren't stuffed full of books and used more for displaying items.
Sometimes I'll go for a simple design when what's needed is a bit of depth and movement in the walls. For those who want a more lived-in look, I recommend Lewis & Wood's Turners Textures. It is a wallpaper that gives the effect of a plastered wall or a specialized paint finish.
3. I opt for an all-over pattern to create a distinct effect
For small bedroom ideas – and especially those in the eaves where it's hard to delineate the top of the wall and the start of the ceiling – I like to go for a complete look with everything from curtains to paper in the same model.
In small rooms, if there are too many disparate items, it can feel too cluttered. All-in-one canvas of jouyor a small-scale pattern, has the opposite effect as the pattern almost disappears as the eyes move easily around the room.
The effect is to create a cozy environment that is cozy and comfortable. What you want to avoid, however, is a model that's too dense – it can end up feeling claustrophobic.
In large rooms, like living rooms, I like to use Totty Lowther's designs (opens in a new tab) for an integral pattern. It provides a quiet yet elegant backdrop for the other designs in the room.
4. I use different stripes in different ways
I like to decorate with stripes on the walls. You can go two ways: loud and bold in a space where you don't spend a lot of time or soft in a bedroom.
The stripes shake things up on the walls without too much of a pattern and are typical of period properties.
I like to use them in more masculine bedrooms and they also have the effect of lengthening a room which can be helpful.
The width of the stripe will depend on the room itself: a hallway could take on something wider and bolder than what you would want to use in a bedroom, for example.
Ralph Lauren (opens in a new tab) made great shirt stripes which I have used in the kids rooms and bathrooms while Ian Mankin (opens in a new tab) has a good selection of cheap stripes in lots of great colors.
5. I'm bold with wallpaper in certain spaces
Powder rooms are the perfect space to have a little fun, so I often encourage customers to expand their comfort zones when it comes to choosing powder room wall decor.
Due to their size, this is the room you could stretch out to have a long-awaited de Gournay (opens in a new tab) paper or choose a beautiful design that becomes a kind of conversation piece for the guests.
6. I spend more on special rooms
The dining rooms benefit from fabric walls and I particularly like to use silk in this kind of environment. Pierre Frey (opens in a new tab) makes a lovely slubby silk that changes color under candlelight and is wonderfully atmospheric. But not only that, it serves to absorb acoustics and creates a comfortable environment.
When the budget doesn't extend to fabric walls, I'll use fabric-backed wallpaper.
Large-scale dining rooms and playrooms also lend themselves particularly well to panoramic or chinoiserie designs; I really like Zardi & Zardi (opens in a new tab) (above) which I also used in a large Scottish billiard room. Don't forget that you can always hang paintings on panoramic wallpapers.
7. I save strategically
There are a few tricks that will help you manage the wallpaper budget. The first is to choose a small-scale pattern with less than a half-inch repeat – this will limit the amount of waste created when matching patterns.
A band is ideal for this; take a look at Ian Mankin's ticking selection. I also use designs from GP&J Baker (opens in a new tab) (above) with small repetitions for this reason.
Another is to just wallpaper above the dado rail in a room (but keep in mind this will only work in rooms that have a good ceiling height – anything below 2.4m will look out of place). proportion).
It is also possible to ask a specialized painter to stencil a pattern on the painted walls.
And, finally, many designers are coming out with wallpaper borders – among them Susie Atkinson (opens in a new tab) and John Munro (opens in a new tab). These can have a big impact for a relatively small investment.